What is P3Y?
P3Y = P1 + P2 + P3 + Y
P1 = Paramji, P2 = Papar, P3 = PramYog, Y = Yog

---
Who is Paramji alias His Holiness?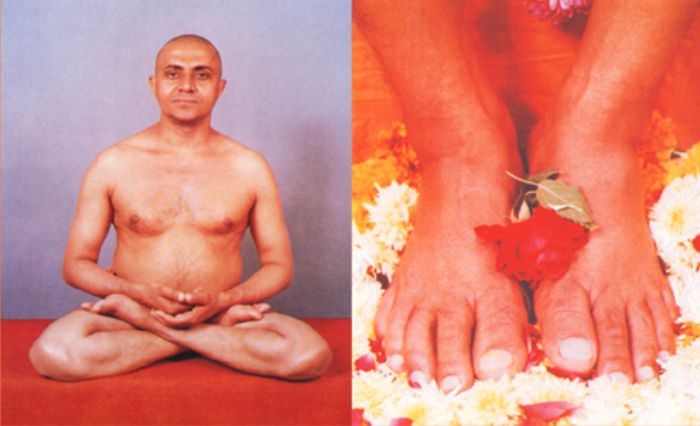 Paramji, Alias his holiness  |  Holy feet of Paramji
---
What is Papr?
Papr is the method taught by Paramji, Alias His Holiness by which you can fulfill your pleasant worldly or material desires and also can get rid of your incurable diseases/sufferings.
---
What is Param Yog?
Param Yog is the method taught by Paramji, Alias His Holiness by which you can fulfill your spiritual desires and get eternal peace.
---
Who must try and do P3Y?
P3Y is for all interested souls of any gender, race, religion, caste, nationality who wish to fulfill their pleasant worldly desires as well as who wish to elevate their conscience to a higher spiritual platform. It is also for those who have tried all sorts of remedies, methods and ways to get relief from their sufferings but haven't got success.
---
In what situations P3Y can be used?
P3Y can be used in each and every situation where you believe that you have tried enough but things are not working out the way you intend. It can also be used in SOS (Save Our Souls (Help!)) situations such as accidents, fire, floods, earthquake or any other natural/ man-made calamity.
---
Does one have to leave/change is existing belief to do P3Y?
NO, any person of any religion or belief can do P3Y and get benefitted. You do not have to leave your beliefs/religion behind, because P3Y is not a religion or belief. It is a PRACTICAL method to get benefits from an eternal knowledge which is forgotten by mankind since ages and can be revived once you start doing it. Your personal experience is the best indicator of its success.
---
What desires are fulfilled by P3Y?
P3Y fulfills all your pleasant desires relating to the material world for which you make genuine efforts but don't get the desired success and spiritual desires like getting mental peace, experiencing the spiritual side of yourself.
Business – All Types
Calamities – All Types
Diseases – Mental – Peace of Mind
Diseases – Body
Family
Farming
Going Out – Door
Tour Journey
Horror, If you believe, that Pain is caused by
Mental Peace in Office
Peace
Researches
Students – Scholar
---
What desires are not fulfilled by P3Y?
P3Y does NOT fulfill the following desires
9.1 The desires to harm others
9.2 The desires the outcome of which will not be in your benefit in future (of course you will realise this)
9.3 Exaggerated desires e.g. your desire to fly without wings, not preparing well for exams and then desiring to top the exams,being a couch potato and desiring to win gold medal in Olympics 100 metre race etc.
9.4 Desires like lottery, draw, theft, speculation, gambaling etc.
---
How much time it takes to fulfill the desire by doing P3Y?
It takes from 3 seconds to 90 days depending upon the nature and ungency of the desire.
---
What is Pakar and why do I need to pay?
Please understand that your desires were not fulfilled by any other method you have already tried and finally your desire is fulfilled through Papr. You can perhaps consider the analogy of a shop owner and a customer. Paramji, Alias His Holiness is the shop owner in the instant case and you are a customer. You can take any item from the shop, the shop is open for all but you have to pay for the items you have taken. Similarly, if you wish to fulfill your desires through this method, if you wish to get benefited from this method, you have to do it in the way it is done. There is no scope for any arguments in this regard. Your personal experience will tell you whether it works for you or not. In any case you will have to pay ONLY after the fulfillment of your desire.
---
What will happen if I don't pay the Pakar?
You have to remember the fact that the Parashakti which is working to fulfil your desire works according to the order and will of Paramji, Alias His Holiness. P3Y is not for cheaters. If you cheat Paramji, Alias His Holiness, your next desire will not be fulfilled by P3Y. It's as simple as that and since you are a cheater, the desire fulfilled by cheating might not last long enough and might not give you the satisfaction you actually have desired. Your personal experience will tell you better in this regard.
---
How many desires can be fulfilled by P3Y?
As long as you do not cheat Paramji, Alias His Holiness, infinite number of desires can be fulfilled through P3Y.
---
Can I say more then one desire in 1 Papr?
You have to do separate Papr for each desire. You cannot combine all your desires in 1 Papr.
---
Do I need to maintain record of my desires & results?
Absolutely Yes. Maintaining the record of your desires and results is a must. This will guide you regarding how many of your desires have been fulfilled by Papr and what do you have to do for discharging your duty towards Paramji, Alias His Holiness. This will also be your personal guide in terms of the experiences you gain through Param Yog and whether your mental health is improving or not. Your experience is your only guide in P3Y and for that you need to maintain proper record of your progress.
---
How can I learn more about P3Y?
If you wish to learn more about P3Y, you can contact
PRATIMAJI CHAUHAN
"PARAMDHAM" 3, Aanand Nagar Society, Behind bhartimaiya hospital, Lalwadi, Sagrampura, Surat-395 001 (Gujarat) (India)
---
What to do after my desire is fulfilled?
If your even one desire is fulfilled through P3Y, you have to be loyal to P3Y and Paramji alias His Holiness and do Param Yog regularly for better results. It does not take more than 10 minutes in a day.